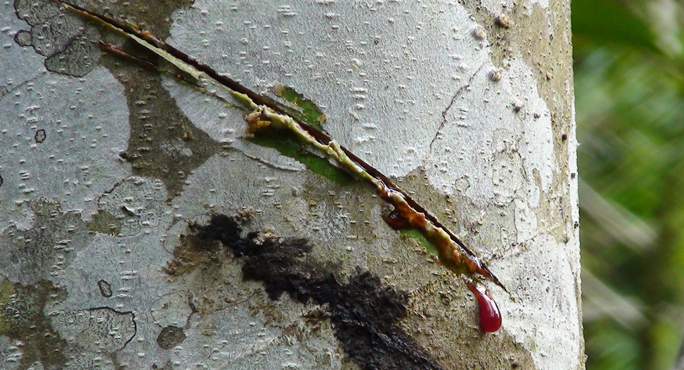 Dragon's Blood: Great for Skin


Dragon's blood trees. The tall trees bore a mottled-white and gray bark, and a couple of the trees also featured diagonal slashes.
Dragon's blood, they call the sap, which runs from the diagonal slashes in the same manner that rubber runs from rubber trees.
Throughout much of the Amazon rainforest, Dragon's blood, called both Sangre de Drago and Sangre de Grado, is the primary topical aid for just about anything bad that can happen to skin. Cuts, bites, burns, stings, rashes, abrasions, sores, and wounds and skin insults of all kinds benefit from application of the healing red latex of this tree.
Dragon's blood contains a broad range of naturally-occurring compounds, many of which have been well studied. The sap is rich in protective antioxidant phenols, and anti-inflammatory compounds of various kinds.
Dragon's blood sap helps to protect the cells of the skin, and reduces redness and swelling. It also contains a group of compounds called proanthocyanidins, which actually repair collagen, the lattice-like main protein that makes up much of our tissues.
Additionally, Dragon's blood contains taspine, a known tissue-healing agent. The sap also demonstrates antibacterial, antiviral and antifungal activity. This is why Dragon's blood is so widely used on infectious skin conditions of all kinds with great success.
Bryan's Dragon's Blood with Hepapeptide 8, Alpha Bisabolol (candeia tree)
The gel forms a second 'skin-like' film, to reinforce the skin's protective barrier. It helps regenerate and repair skin, improving overall texture and firmness. It can be used as a replacement for day and night creams but as it contains no SPF be sure to also use and SPF cream during the day.
The appearance of facial contours are defined and skin appears smoother, plumper and more youthful looking.
- 50ml jar
- Highly concentrated, lightweight formula
- Apply to face and neck to help visibly define facial contours
- Use morning and night for best results
Ingredient 2: Peptide 8


The dermal-epidermal junction is where the epidermis meets the dermal layer of the skin. Its function is to resist mechanical forces that may damage the skin and its permeability regulates water, oxygen, nutrient exchanges and waste removal.


As we age this junction flattens and as a result the skin has a decreased resistance to structural changes and less dermal-epidermal exchanges.


Communication between these two layers is essential for skin homeostasis.
Heptapeptide is one of the newest anti-aging ingredients that are being incorporated into known to mimic the action of laminin-5, an important molecule that is present in the dermal-epidermal junction and is responsible for improving its function.


Studies have indicated that laminin-5 is necessary for the health and appearance of the skin and is directly involved with skin ageing. Clinical studies indicate that using Heptapeptide over a 21 day period helps tonify the skin, improves its smoothness and helps regenerate and renew the skin on a cellular level.
This Gel formulated with the new (sensational) Heptapeptide-8; an active material which helps to slow down the signs of ageing by nourishing the skin to leave you with a fresher, smoother and younger looking complexion.

This facial gel is part of omhealth new range, exclusive products specially formulated using some of the most nourishing and regenerative ingredients to help compliment the delicate ageing process.